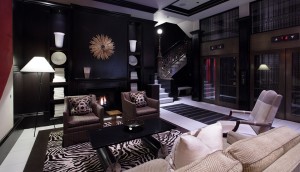 First impressions are so important. From the moment you step into the lobby at XV Beacon, you're immediately transported to a place of luxury, authenticity and exclusivity. It's our privilege to ensure you have a great stay while you're here, and lounging in our four-star lobby is just the beginning.
We were honored to see that Haute Living named XV Beacon's lobby one of the coolest hotel lobbies in Boston.
"Boutique luxury at its best, XV Beacon sits prominently in the luxe neighborhood of Beacon Hill. A step inside the gorgeous lobby and the first thing you will notice is the impressive art collection. From an ancient Roman mosaic to Jules Olitski's "Green Dot" canvas, the art filled lobby has been recognized for its stunning works. Even the guest rooms feature specially commissioned pieces by Martha Lloyd, Joe Greene, Tony Evanko and Ben Freeman."
Perfectly situated in Boston's historic Beacon Hill neighborhood, our lobby is the first step toward your ultimate luxury hotel stay. Located in a turn-of-the-century landmark Beaux Arts building and surrounded by some of the rarest and most famous local art, XV Beacon is your home away from home when you're in Boston.
Check out our packages and promotions, and book your reservation now.