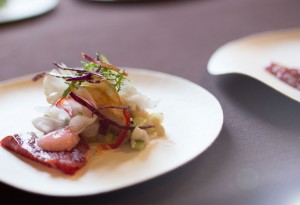 XV Beacon is proud to partner with Lexus to provide our guests with luxury in-city sedan service and airport transportation. So when Lexus gears up for something big, we're there to share the opportunity with our guests.
The 2016 Lexus Culinary Classic takes place at Cavallo Point Lodge in Sausalito, March 11–13, 2016. Rated the #5 hotel in California by Travel + Leisure, Cavallo Point Lodge will provide a picturesque setting for a weekend of events featuring Lexus Hotel Partner chefs, including 15 Beacon Chef Mauricio Luna and Columbus Hospitality Group OSTRA's Pastry Chef Jennifer Luna. The chefs will team up to create menus for exclusive dinners, wine tastings, cooking demonstrations and the final Grand Tasting, which will also feature wineries that participate in the Lexus and Napa Valley Vintners partnership.
Attendees will have the opportunity to learn more about the Lexus Hotel Partners, their culinary programs and chefs, and the Lexus owner benefits offered by each hotel.
Tickets will be sold on www.lexusculinaryclassic.com and will be available à la carte or through an all-access weekend package. The à la carte tickets range from $100 to $250 per event and the all-access pass is $730 (10% discount on gross ticket price for five events).
If you can't make the event, you can follow all the excitement on Lexus' Twitter, Facebook and Instagram accounts.