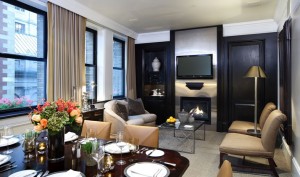 Luxury travel is nothing if not personal. From the moment you book the reservation, the stay is all about you. At Fifteen Beacon, we pride ourselves on being able to support the requests and needs of all our guests — from transportation to setting up business meetings and making hard-to-get dinner reservations. What else do you get when you're a guest at 15 Beacon? The luxury services and amenities include:
Valet parking
Complimentary in-town Lexus courtesy service
Complimentary Wi-Fi
iPad rentals
Puravair air purifiers for hypo-allergenic rooms
24-hour valet laundry
Customized bath amenities
Complimentary overnight shoe shine
24-hour room service (including the complete menu from Mooo)
24-hour concierge/bell service
Don't forget: 15 Beacon is pet-friendly. We welcome dogs of all sizes and can arrange dog sitting and walking services through our Concierge.
If exercise is part of your personal time, Fifteen Beacon offers a variety of workout options for guests. Make use of the 24-hour on-site exercise room, which includes free weights, treadmills and stationary bikes. We can also arrange for private trainers and in-room yoga classes. If you'd like a more diverse workout, stop by the Boston Sports Club for just $15 a day.
Even before you arrive, Fifteen Beacon Hotel is at your service. Call or email us at 617-670-7900, or concierge@xvbeacon.com.