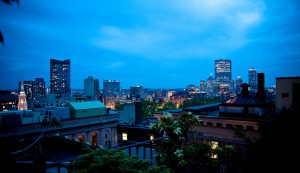 Boston's theater scene is often revered as one of the best in the nation. Broadway and off-Broadway shows, as well as concerts, comedy events, and a year-round schedule of ballets, plays and musicals from local theater organizations make Boston theater a must-see while you're in town.
Make it a date night, with the help of XV Beacon, and turn a regular evening into a night you'll never forget.
Boston theater in October is packed full of great shows including:
The Book of Mormon, currently showing through Oct. 11 at the Colonial Theater (pictured)
The Blue Man Group, currently showing (no end date)
Rogers & Hammerstein's Cinderella, The Musical, opens Sept. 29
Local venues including The Huntington Theater, North Shore Music Theater, Arts Emerson, and the Lyric Stage Company of Boston, are always showcasing in smaller venues – a delight to new visitors who want something a theater experience with a little more intimacy.
Let our Concierge help book the perfect night on the town for you, and make date night in Boston a night to remember. Many restaurants, including our own Moo…, have pre-theater menus so you won't have to worry about getting to your seats in time. Our Concierge will arrange it all, including transportation to and from the theater in one of our XV Beacon house Lexus cars.
Enjoy the show!