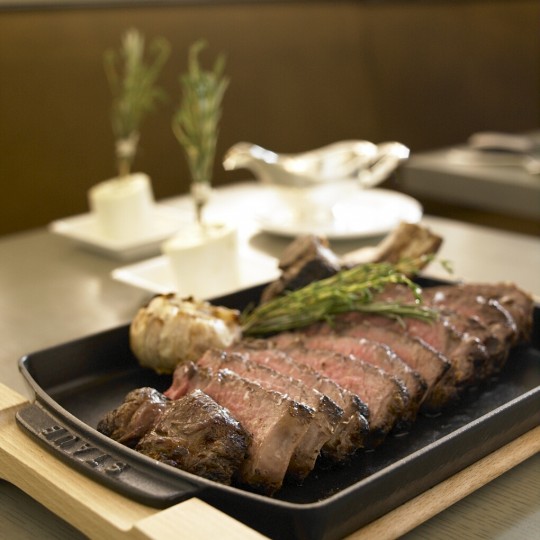 Guests won't go hungy at Fifteen Beacon. Our steakhouse, Mooo, is open for breakfast, lunch and dinner, and has a variety of culinary options worth savoring. The kitchen features fresh seafood specials regularly, a bar menu perfect for those wanting something a little lighter, endless vegetarian dishes and of course, a la carte steaks that pair well with just about anything Chef Jamie Mammano can dream up. 
Join us for a drink in the lounge, nibble on some of our famous appetizers, or host an event in our legendary wine cellar. While you're here, don't miss the following:
The oysters at Mooo are always fesh and priced to market (typically between at $18 to $24 for a flight of 6). They make a great appetizer and all are served with Mooo's oyster accompaniments: horseradish, cocktail sauce and raspberry mignonette.
Mooo's steaks are served à la carte, which means you pay for your meat and then choose your sides, priced separately. Each piece of meat is served with roasted garlic and bone marrow butter. If you're looking for something legendary, the 6-ounce Japanese Wagyu beef sirloin is a perfect choice.
There's nothing good old fashioned comfort food, and Mooo… does it right with its mac and cheese. Served in a small baking dish with bubbling hot cheese and breadcrumbs along the top and sides, the dish is extra decadent when you add lobster to it.
Brunch at Mooo… is an artform, so come with your appetite and prepare to feast! Don't miss the blueberry beignets or French toasts with carmelized bananas and gingered maple syrup.
The sides at Mooo… are enough to make a meal, so if you're looking for something lighter, try this side of the menu. Fresh roasted vegetables and potatoes served a variety of ways make it easy for anyone to find what they love.
Don't feel like getting dressed for dinner? No problem! Room service from Mooo… is available to all Fifteen Beacon guests.