When the pumpkins are lit and the moon hangs high in the sky, you know it's time to keep a watchful eye out for the ghosts, ghouls and goblins that appear in the dark of night. It's October, and there's only one place to be to celebrate Halloween in Boston: XV Beacon Hotel.
Stay:
If you'll be in Boston for Halloween, check into XV Beacon for our special Halloween on the Hill rate.
Halloween Happenings in Boston:
Attend Boston's Annual Fall-o-Ween Children's Festival at Frog Pond on Friday, October 21, 2023 from 5-8pm
Enjoy a guided tour: Beacon Hill with a Boo!-Walking Tour, or try the Ghost & Gravestone Tour.
Start at XV Beacon and take a walk on All Hallow's Eve through the cobblestone streets of Beacon Hill, and witness the neighborhood as it transforms itself with elaborate decorations and endless trick or treaters.
Beacon Hill trick or treating: Bring your dog on Halloween (10/31) to XV Beacon in costume and we will give a special treat to the best dog-costume!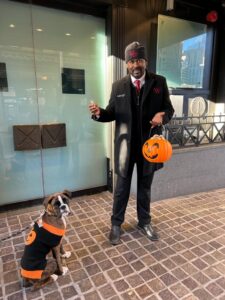 Things to Do This Fall in or near Boston:
Enjoy the sunrise or sunset from our Boston hotel's exclusive roof deck. Open seasonally until October 31st.
View the Fall Foliage (The Public Garden, Boston Common, The Esplanade, Beacon Hill, Rose Kennedy Greenway, Back Bay & Bay Village, and along the Boston Skyline).
Take a day trip to Salem, Massachusetts and enjoy some spooky-fun activities during the Halloween season.
Pick the perfect Pumpkin –Pakeen Farm is 35 minutes outside the city and is worth the drive from our Beacon Hill hotel.
Apple picking anyone? – Honey Pot Hill is 45 minutes outside the city and is a perfect way to enjoy your autumn day.
If you're spending a few extra days in Boston, be sure to contact our Concierge Team for help planning an itinerary that's fit for any level of spookiness. Don't forget, we have our Lexus Drive vehicle that our hotel guests can book and take up to 6 hours. Please inquire with our Concierge Team to reserve your drive today as the car is only available until October 29th, 2023.