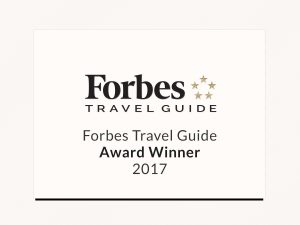 Once again, XV Beacon Hotel in Boston proudly accepts the Forbes Travel Guide Four Stars. The prestigious star awards are handed out every year to luxury hotels around the world.
Here's what Forbes Travel Guide has to say about our Beacon Hill boutique hotel:
Staying at the Four-Star XV Beacon, a Boston boutique hotel, makes you feel like a Brahmin with your very own home in the exclusive Beacon Hill neighborhood, complete with a staff to take care of every detail and a chauffeur to drive you wherever you wish in the hotel's Lexus sedan. With its regal Federalist design that plays on the city's history as the hub of the American Revolution, this hotel oozes old-school Boston style. Every guest room has a four-poster bed, fresh floral arrangements, a working fireplace and toiletries from Boston-based cosmetics line Fresh. When you're ready to explore the surrounding neighborhood, check with the hotel's knowledgeable concierge or the stylishly dressed doormen — they're some of the city's friendliest and most in-the-know residents.
Considering visiting XV Beacon? We'd love to have you! Here are the five things to know about XV, according to Forbes Travel Guide:
1. XV Beacon caters to business travelers better than anyone.
2. XV Beacon has a small gym open 24 hours that can be accessed with a room key card, but there is no pool or spa at the hotel. The hotel does have an agreement with the swank Sports Club/LA, located about five blocks from the hotel.
3. Dining options at XV Beacon are limited to the hotel's sole restaurant, Mooo. The restaurant serves breakfast, lunch and dinner and specializes in modern steakhouse cuisine. However, XV Beacon's prime location in Beacon Hill puts it within walking distance of hundreds of restaurants and bars.
4. XV Beacon is a small hotel with just 63 guest rooms, but its size makes it perfect for business or solo travelers looking for a luxury environment without all the commotion of a large hotel.
5. XV Beacon is pet friendly and provides plenty of amenities for your dog, including fresh-made treats, a bed and turn-down water. The hotel will also arrange dog walking and sitting services, if necessary.
XV Beacon has been part of the Forbes Travel Guide list of luxury hotels for years, and is proud to stand next to our fellow four- and five-star hotel winners. You can find all the star ratings
here
.