A new pastry chef is whipping things up at Mooo…. Beacon Hill Restaurant within XV Beacon . Chef Christos Zagorianos brings originality and creative flair to Boston's dessert scene without over-complicating his creations. Through the rise of social and digital media, people are beginning to pay more attention to the unsung heroes of our dining experiences. Get to know Christos and the passion he pours into every sweet bite.
Where are you originally from and what is your background in the industry?
I come from the sixth most populous city in Greece, Volos, and have been working in the industry since I was 16 years old. My older brother was the one that initially introduced me to patisserie, who owns one of the most successful pastry shops within our town. After completing my studies, I went on to work for Club Med which took me to many different countries across Europe. This was an exceptionally educational experience because I started from Chef de Partie and quickly moved up to become a Pastry Chef within three years. I have since worked for multiple 5-star Hotels, Michelin star restaurant, and my most recent work was at a 5 star Relais Châteaux Hotel in Chatham, Cape Cod. Each stage in my professional life came with its unique learned lessons which follow me to this day at the Columbus Hospitality Family.
Let's get into the Hot Topics:
What are some dessert trends you see breaking through?
I am a firm believer that things will start reverting to the more classical/traditional styles and flavors, but with a unique flair and spin.
What is your unique creative flair that stands you apart from other pastry chefs?
Working in this industry from a very young age, gave me the opportunity to evolve and gather numerous experiences from various angles; fine dining restaurants; hotels; bakeries. Durinbbg my classical training in French Patisserie and working with acclaimed Pastry Chefs from different backgrounds, has given me that extra confidence in creating desserts that are harmonious and exciting at the same time. Flavors that transcend all expectations and provide a memorable experience.
What excites you most about being the world of pastry and at Mooo…. Beacon Hill?
Pastry is another form of art. It is a world that has no ending. You can never learn it all nor can you reach a limit. The limit is what you set for yourself, and I for one, keep on learning every day. I enjoy making people happy, whether that is in the form of a fine dining experience or a birthday cake for a kid's party. Mooo…. is such a place and I am very glad to have found it in Boston.
Among your industry what other pastry chef has most inspired you throughout your career and why?
There are so many talented pastry chefs out there from all over the world and each inspires me differently, but equally valuably in my work.
Describe and Provide a photo of your most extravagant/luxurious/ dessert creation that you are most proud of or known for?
What you see in the picture below is: Espresso Mascarpone | Description: mousse mascarpone, espresso crémeux, praline feuillentine, hazelnut sponge, Kahlúa gel. Every single one of these flavors complement each other beautifully and harmoniously.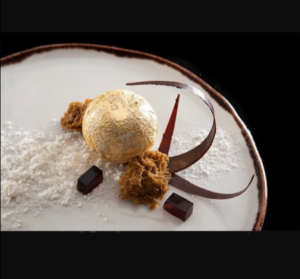 The below is another favorite creation that also serves the vegan crowd. Title: Apple textures | Description: poached apple in mavrodaphne wine, caramelized walnut soil, liquid green apple spheres, apple reduction, cinnamon tuile, green apple sorbet.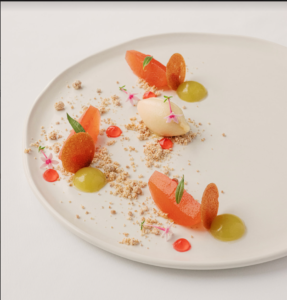 What is your favorite ingredient to work with?
Chocolate. It is such a temperamental ingredient and requires respect and knowledge.
What is your personal favorite pastry/dessert to make/eat?
While I can never say no to a fresh and traditional Tiramisu, I enjoy making all desserts.
We have to ask, what is your favorite dessert on the Mooo…. Beacon Hill Menu?
Valrhona Chocolate Cake. Made with Chocolate Ganache, Chocolate Cremeux, and paired with a scoop of Vanilla Bean Ice Cream.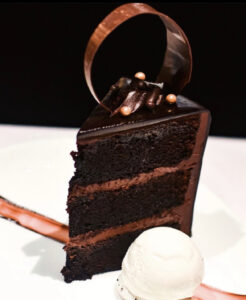 Do you have any advice for aspiring pastry chefs?
Have passion and patience, and as much as a it sounds a cliché, you must love this job in order to be a successful professional. Also, it helps to invest in learning the foundations first and foremost, and then add on the different techniques and styles until you find your niche.
What is your take away for someone that wishes to maintain a healthy lifestyle but loves to indulge in sweets from time to time?
Just like the ancient Greeks said, everything in moderation.